Chloe + Zach | Seacliff House, Gerringong Wedding
Chloe and Zach have been together forever - they met in high school. Their wedding is super laid back. They had a long weekend away with their closest friends and had their wider group of friends and family join them on their wedding day.
Their style is pretty eclectic, using Chloe's skills as an events manager, Zach's skills as a handyman, and Chloe's family who owns a florist. There were touches here and there that were labours of love, and as Chloe said, "...that's the fun of it, right?"
Getting ready
Zach got ready with the boys at the Seacliff House, Gerringong, while Chloe got ready nearby in Gerroa.
How did you meet?
Chloe confided, "Zach and I have known each other since we were 15. Zach was my best friend's neighbour. We were ratbag teens first. Regrettable hairstyles, ditching school, smoking in the park, and sneaking into pubs underage - all the usual cringey memories perhaps best not shared publicly in too much detail!"
How did you know?
We asked them how they knew that their partner was "the one." They told us, "We just grew together. Never one defined moment, but we've always just been at home with each other. We can scream and laugh and cry and never be worried what the other is thinking except that they will support and love you."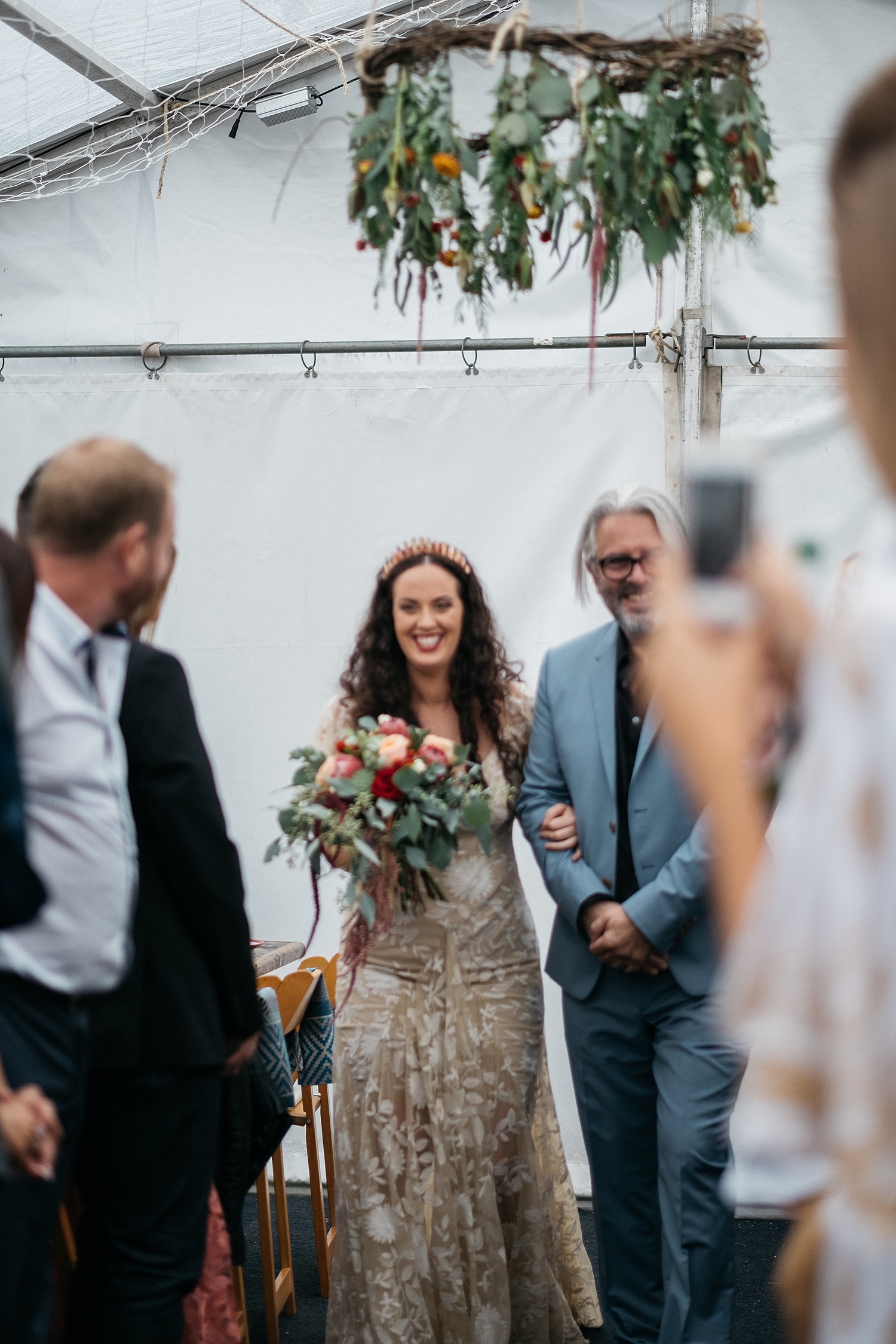 The proposal
There were two proposals.
The first proposal. Chloe asked Zach when they were 22 years old. It was about about 2:00am at the pub, with Chloe using a burger ring. "Suffice it to say no wedding eventuated," Chloe said.
The second proposal. It was 5 years later on their 9-year anniversary, Zach asked Chloe after dinner on the beach they live next to.
Their wedding photos
When we asked them about what they envisioned for their wedding photography, they said that fun is the most important part and biggest part they want captured on camera. "We aren't the type of couple to put our wedding portrait on our mantle piece at home. We just want an epic collection of photos of our friends and family that actually shows their different personalities (warts and all!). Zach and I aren't overly romantic. We prefer fun and laughter over everything else."
The inspiration behind their wedding
Lots of colour and eclectic. Pretty much anything they both liked - they threw in, "from homemade cushions, textiles and throws with Zach's mum and her friends, to Turkish desserts from my mum and sister. Crystals and salvaged furniture we have displayed in our house were all driven down to the venue to bring a bit of 'us' to the day.'" Chloe recounted.
Their DIY projects
Desserts were made by Chloe's mum and sister.
Favours were jewellery made by Chloe and her mum
Flowers were beautifully put together by Zach's mum Cathy and her amazing tribe of florist friends.
Cushions, throws, table linen - everyone chipped in at one stage. They're just beautiful!
Invites were David Bowie circa '71 inspired and made by Zach and Chloe. Other stationery were made by the couple (place cards, tags, etc.)
Vendors
1. Wedding Gown
2. Groom's Suit
3. Bride's Shoes
4. Wedding Rings
5. Veil or Hairpiece
6. Makeup
7. Flowers
8. Catering
9. Celebrant
10. Marquee or Teepee